The 4Rs youth movement has re-ignited my passion in working towards the well-being of future generations. Before 4Rs, I was mainly focused on cultural programming for Aboriginal youth but this movement has provided me with knowledge, resources and access to a diverse group of young people working toward a mutual understanding of shared histories.
My hope is to further empower all youth to learn about each other and pass that knowledge on to their circles of family and friends. Knowledge is power and learning about my own Indigenous history has been both empowering and healing. Systemic change in attitudes about a diverse population is ambitious.
4Rs is providing the opportunities for young people to become empowered for change and is the best chance we have at re-creating a future society of acceptance and understanding.
Reconciliation, to me, is ultimately to have real impact on systemic change for the benefit of all.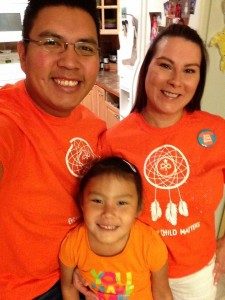 Tim Fox is Blackfoot and a member of the Blood Tribe, a proud husband and father to his daughter, Charm. Tim is the Manager of Aboriginal Initiatives at the Boys and Girls Clubs of Calgary and has been working with us to prototype the 4Rs framework for cross-cultural dialogue.