What can reconciliation look like when we centre wellbeing, co-liberation and healing justice?
4Rs National Learning Community – Who is this for?
In 2021, we are calling together teams of 2-4 young people between the ages of 18-30, to join our National Learning Community (NLC) of organizers. As part of the NLC, you will be invited to create opportunities for self-determined reconciliation initiatives in your community while being given the opportunity to focus on your wellbeing, and filling your bundles with new knowledge from across movements, about co-liberation and healing justice. 
The NLC isn't just a program, but rather a community that puts relationships and a commitment to learning at the centre. The NLC is an invitation to embrace mistakes, vulnerability and internal confrontation by surrounding yourself with a community that supports you with abundance, love and trust. The year ahead will be a chaotic, but structured, youth-led, mistake-ridden, solution-oriented, inquisitive, supportive, scary, confrontational, gentle, relational, reciprocal, reconciliation monster we call the NLC. 
4Rs is looking for young people who are searching for opportunities to grow and change personally, who want meaningful support from others, and who are looking for new approaches and skills to transform how they work within their community or as part of larger movements.

Is that you? Apply as a team by April 18th, 2021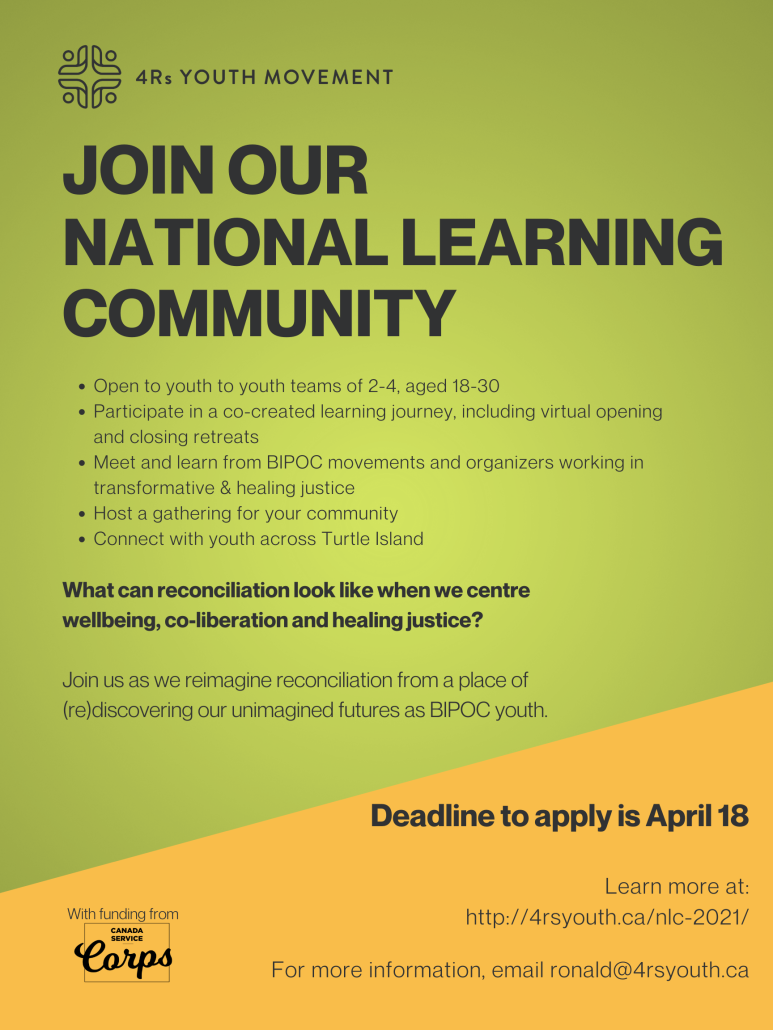 "I imagine the NLC as a space for BIPOC young people to come together. Young people who often get stuck and caught up in the burnout of this work and the realities of colonialism in Canada, but who want to exist and dream in a new way. I imagine bringing together young people who have that desire, but haven't had the moment to to be still, and to be honest about shapeshifting into who we are being called to be. We are on the tipping point of a new beginning of rediscovering our unimagined futures. I want people to come into the NLC and feel that skoden energy and use it to build worlds together."

–Ron Gamblin, NLC Coordinator
Do you know people who motivate you, strengthen and balance you, who support and inspire you to do things together that you could never do alone? People who you want to learn and grow with? Apply by April 18th to join our 2021 National Learning Community!
Who should apply:

Groups of 2-4 people who want to work together and learn together as a team.
What do we want to hear:

For the individual application, we want to get to know YOU – who are you, what you are hoping to learn this year and what draws you to this work? For the team application, we want to hear from your WHOLE TEAM – what brings you all together and what dreams do you have for your community? 
When do you need to apply:

The deadline for both the individual and team application is April 18th, 2021. 
While we encourage all types of reconciliation based dialogue, 4Rs will prioritize applications focusing around: displaced Indigenous peoples and refugees, two-spirit and LGBTQ+ youth, BIPOC relations and identities, Black-Indigenous and other mixed Indigenous identities, young Indigenous mothers, land and water protection, reparations, Indigenous futurisms, cultural protection/revitalization, mental wellbeing and other conversations that are not prioritized meaningfully in the reconciliation process or get funded under typical reconciliation programs.
From April 2021 to March 2022, 4Rs will be bringing together a cohort of young people who will form a National Learning Community – the NLC. We are looking for groups of 2-5 young people to apply together as teams, to build capacity as facilitators of reconciliation dialogue using the 4Rs Framework. As part of the NLC, each group of facilitators will:
Participate in a co-created learning journey, beginning with a facilitator's retreat in late May 2020 and closing with a final retreat in March 2021
Receive an honorarium and $10,000 in funding to be used towards hosting a gathering/event/initiative in 2021
Have the opportunity to travel across Turtle Island to experience national and local 4Rs gatherings
Benefit from the experiences of a home base of shared communication, resources, people and supports from the 4Rs Youth Movement team throughout the year
Dialogue and action within the context of reconciliation is deeply impacted by our personal identities. It can be a difficult journey, but when done with the company of others, it can also be liberating, empowering our sense of purpose, our spirit, and our connection to the land and to each other. Join us in 2021 as we learn to:
Reimagine the process of reconciliation through the lens of equity and justice, relationship to land, authentic relationship building and collaborative leadership;

Better understand the lived realities of a diversity of Indigenous young people and the entangled stories of reconciliation;




Equip ourselves and others to facilitate meaningful dialogue – making connections between values, theory and practice;

Invest in our spirit, body, mind and emotions in ongoing capacity development for practicing community work;

Let go of harmful practices in our organizing so we can make room for new skills and knowledge;

Build a community of practice engaged in self-awareness, healing and meaningful reconciliation